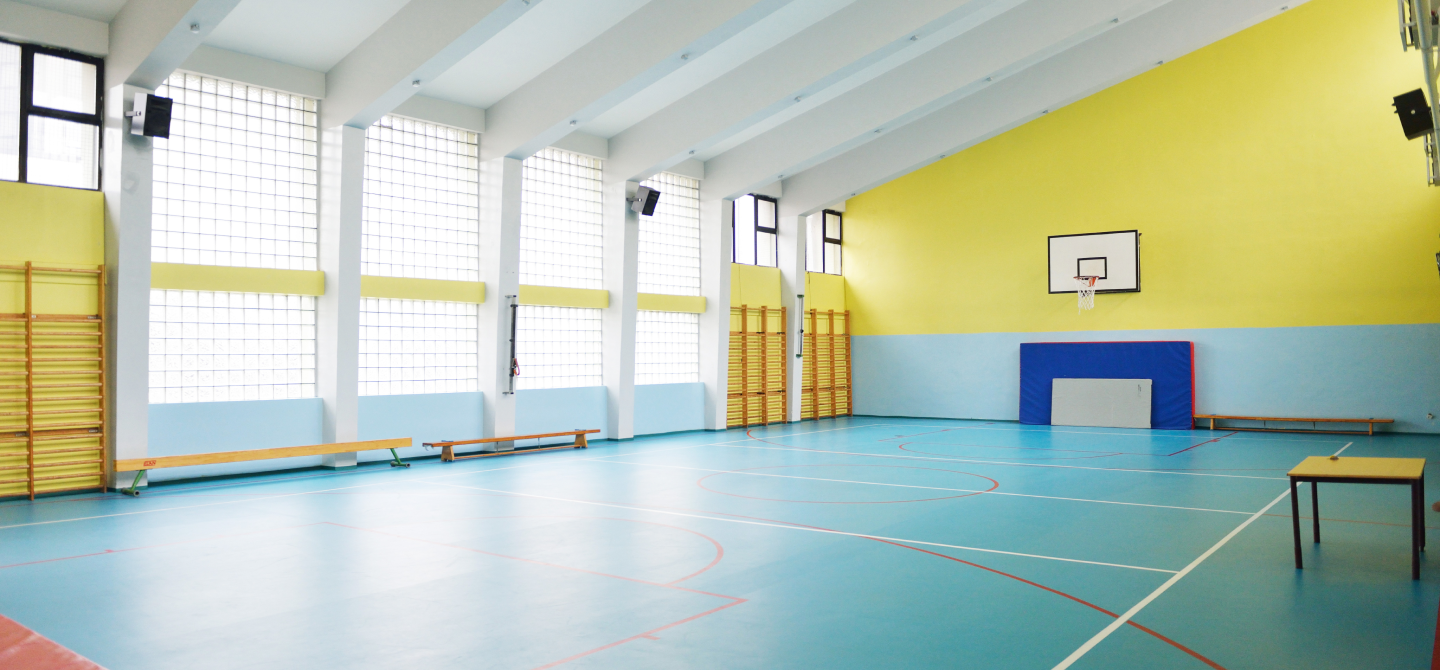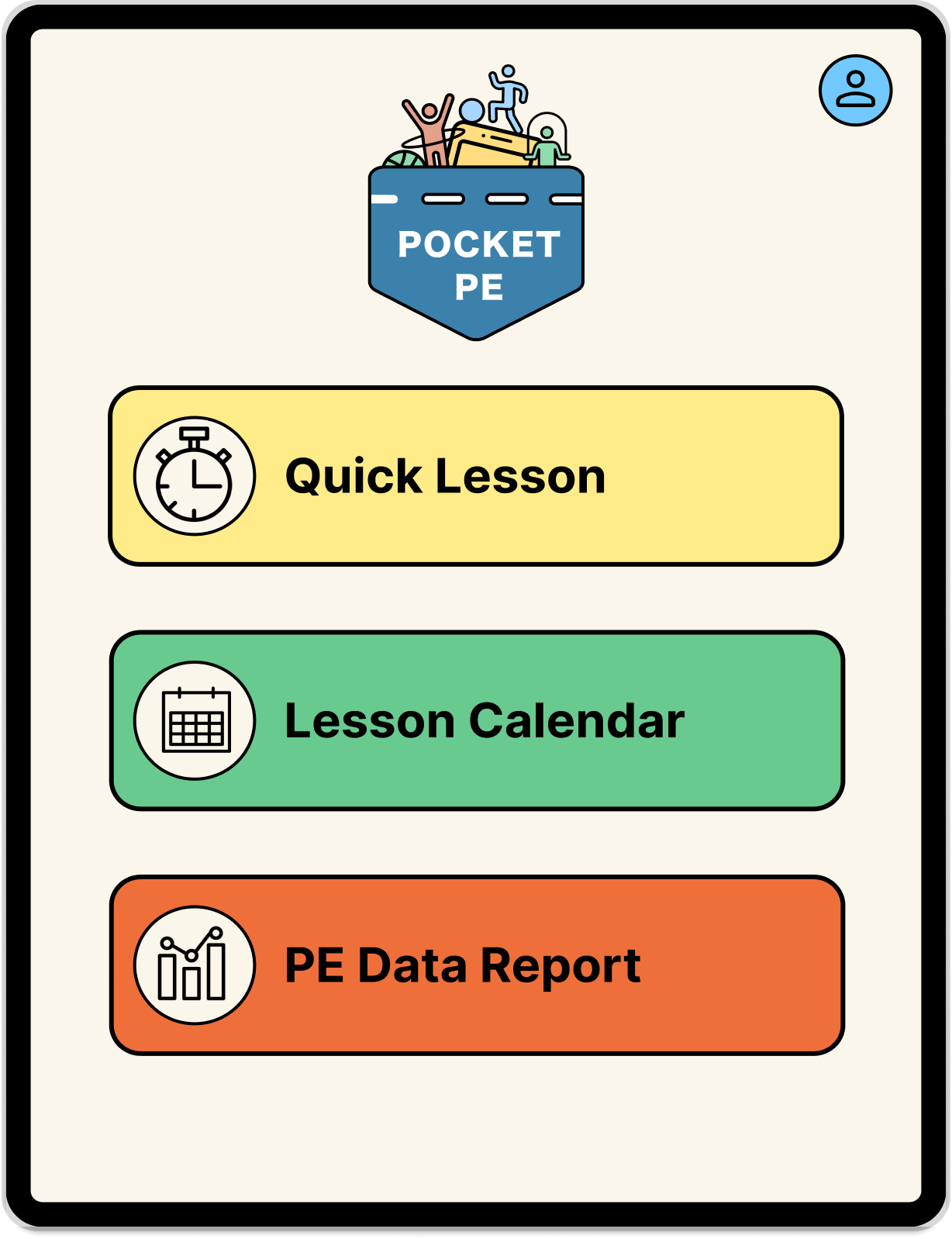 PHYSICAL EDUCATION APP FOR TEACHERS
Product
An app that allows teachers to customize nationally standardized PE lessons in real time -- based on equipment, time, and space available.
Deliverables
Brand Design, UI & UX Design,
Illustration, App Development,
Data Visualization,
Quality Assurance
THE CHALLENGE
Childhood physical inactivity and underdeveloped fundamental movement skills are associated with myriad preventable adverse physical, cognitive, and social-behavioral outcomes, including greater prevalence — and more severe levels — of obesity, poorer self-esteem, poorer cardiovascular and bone health, and poorer cognitive functioning. Due to inadequate school funding, and the time-consuming nature of lesson planning, physical education in schools is suffering. The Pocket P.E. team aimed to utilize SBIR Phase I funding to create an easy-to-use, standards-based app that would allow 3rd-5th-grade teachers to generate custom P.E. lessons in minutes, while capturing all relevant usage data and displaying corresponding charts.
THE PROCESS
We met regularly with the project Principal Investigators to consider solutions and review early stage grayscale wireframes. We created a low-fidelity prototype of many features in order to test and ensure that we had the most user-friendly interface for teachers. This app could not succeed were it not incredibly quick and easy to use.
After wireframe approval we presented to the client a couple of visual directions, and then applied their selection to the wireframes. From there, the development team began working on implementing features until the app was complete.
1
Generate Custom Lessons
2
Schedule and View Lessons
3
View and Send Data Reports


BRANDING CONSIDERATIONS
The palette used in this project is bright and playful, while also drawing inspiration from a retro-leaning aesthetic (which had great appeal with users). In order to maximize legibility, we chose modern san serif fonts and utilized WCAG best practices to provide high-contrast displays of content. Color further contributed to the program's ease of use, as we coded each of the three primary functions with its own color.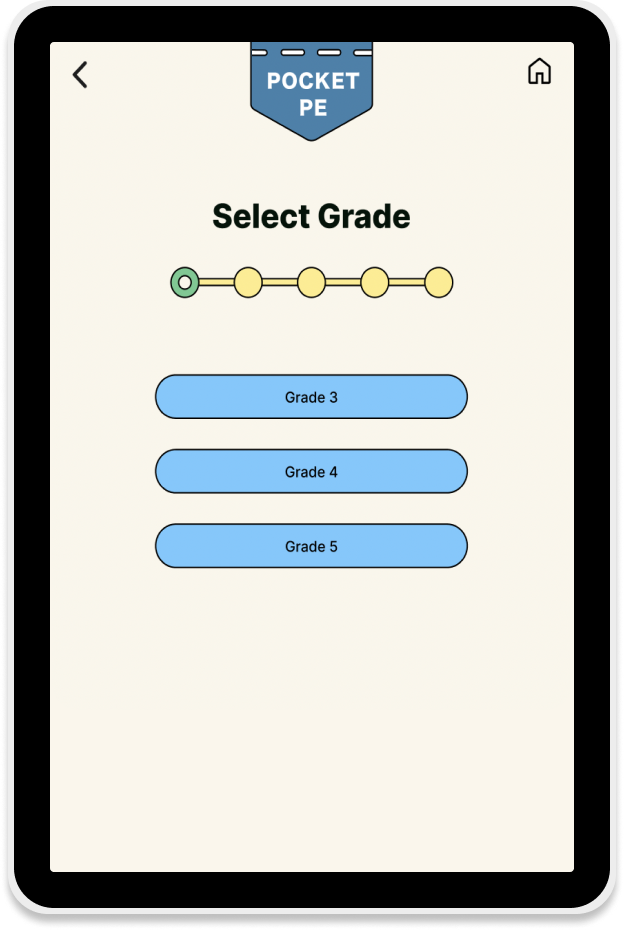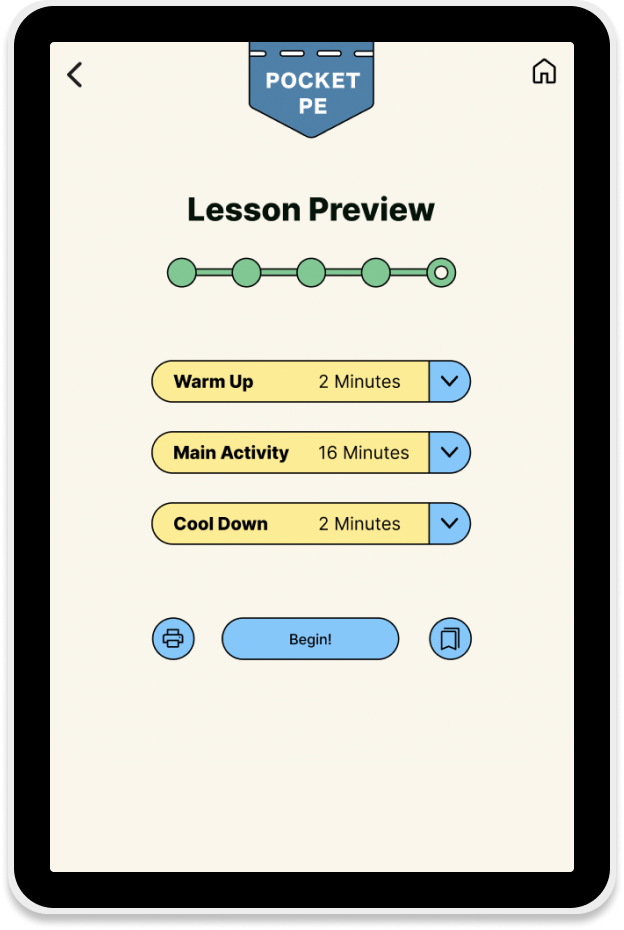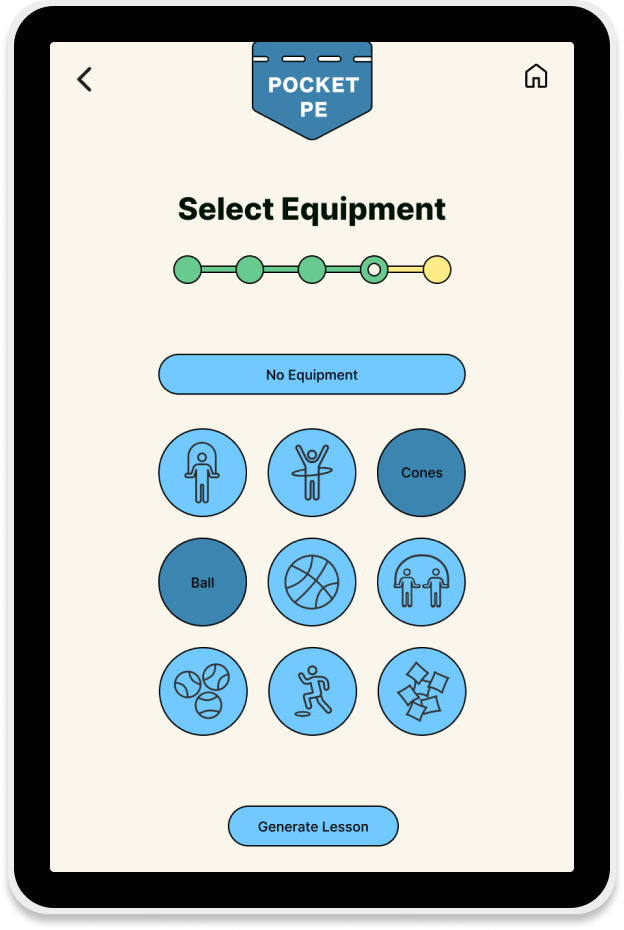 FUNCTION MAKES IT FUN
Teachers were able to build highly-customized lessons in minutes with just a few easy-to-use selectors. Users chose student grade, the time and equipment at their disposal, and the setting where the lesson would take place (e.g. a gym, classroom, outdoor area, etc) -- and then a lesson auto-generated from the giant integrated lesson database. Teachers found this fun and rewarding, and reported that it improved their PE success.
IN-APP VIDEO INSTRUCTIONS
PRINTABLE STATION INSTRUCTIONS
THE DATA
Users and school administrators needed a way to view and evaluate student progress, while also tracking and sharing a record of national standards met. We created the data reports page so that users could do just that. Not only do they get a preview of their progress before sending, but with one click, they can send a year-to-date report to their supervisors at any time.
THE RESULTS
Due to its efficiency, speed, and flexibility, teachers rave about Pocket P.E., and the team plans to add additional exercise content to the already-extensive database.
TECHNOLOGY
React Native, Firebase (Firestore, Authentication, Analytics and Functions).